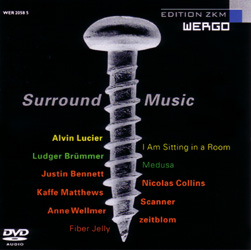 Surround Music
Published by Edition ZKM / Wergo.

This 5.1 Surround DVD-Audio (only for DVD-Audio players I'm afraid) contains the following pieces:
1. Alvin Lucier: I am sitting in a room (ZKM version) 44'24"
2. Ludger Brümmer: Medusa 23'48"
3. Justin Bennett, Nicolas Collins, Kaffe Matthews, Scanner, Anne Wellmer, Zeitblom: Fiber Jelly. 55'39"
Fiber Jelly was a networked concert where each musician performed in a different space in the ZKM building in Karlsruhe. The musicians listened to and processed each other's sound as part of their own concert. The audience could choose to wander around between the concerts or sit in the main hall and listen to a multichannel mix. This DVD-A contains a mixed-down 5.1 version of the concert.
Please note that this disc only plays on DVD-Audio players with an appropriate surround system.

Packaged in a clear box with full colour booklet.

Price = 10 EUROS incl. postage and packing.
---