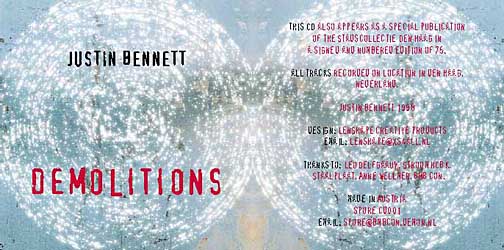 Demolitions
Demolitions, by Justin Bennett is an audio CD commissioned by the Haagse Gemeentemuseum in 1998.
It was published in two editions:
in a limited edition of 75 (now sold out) with special packaging and an extra piece "Gift" on CDR, only available from the Haagse Gemeentemuseum.
in an edition of 400 on Spore Records (this one!) packaged in jewel case.


Price = 12.50 EUROS incl. postage and packing.
---
Review by Bart from Wreck This Mess:

"Demolitions" on Spore is recorded on location in Den Haag. I first became interested in his work of acoustic prints he did of various cities around Europe.
This particular CD seems to be a series of studies of devolutionary or decaying sounds. It is almost as if each piece has had a highly contagious strain of bacteria released into it. Like a virus that eats away at all melody, rhythm, preconception of what sound or music is supposed to be. What you are left with is a pulsing, throbbing, gurgling piece of funk that is making sound - like people used to believe in the spontaneous regeneration of life, this seems to apply here to sound. Like a throbbing, quivering amoebae pulsing through the charged air of a reality ever more inundated with information and phenomena and ever more bereft of solace and consequence. "Vent" fixes us aurally inside the eye of a hurricane; you can almost feel objects and belief whirling by you, everything coming loose from their moorings, things going undefined.
Review by Trav, in De:Bug, Berlin.
"Das Cover vermittelt in Verbindung mit dem Titel einen ganz gunten Eindruck von dem Hörerlebnis, das einen erwartert. Es erinnert an das Bild, welches sich dem Auge beim Blick durch ein Elektronenmikroskop bietet: flusige, kleine Partikel im lockeren Verbund miteinander. Der tonalen Umsetzung diese Bildes liegen Geräusche der Stadt Den Haag zugrunde, nur dass davon nicht mehr viel übrig bleibt. Hier und da blitzt noch ein Fragment auf, dass maan einem Kontext zuzuordnen vermag, im nächsten Moment herrscht dagegen schon wider ein sehr subtil strukturietes Feld geräuschhafter Ereignisse vor, das seinen eigenen äusserst stereophonen Raum beschreibt. Eine sehr leise CD, die nach grossen Raumen verlangt, aber auch in kleineren einen Anflug der Weite selbiger zu vermitteln vermag. Klänge von grosser digitaler Schönheit."