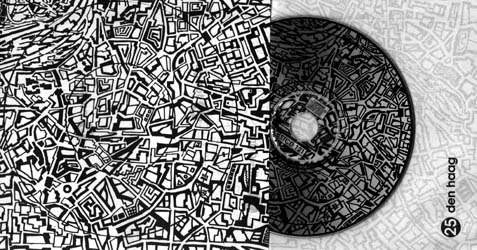 Cityscape
A CD-Extra by Justin Bennett, first released on Staalplaat and now available again through Spore, it contains over an hour of sound and an interactive soundwork for Apple Mac computers*. The sound is one continuous mix of sound recorded in cities all over Europe and North Africa. This sound includes archive recordings and live radio broadcasts made by the artist.
The original folding poster has run out, but this CD comes packaged in a plastic sleeve with an A5 card using the same image.
This re-release is strictly limited to 200 copies.
Price = 10 EUROS incl. postage and packing.
* please note that the interactive part of the cd-rom will only work on computers booted in Mac OS 9 and earlier. (sorry hi-tech people).
---
Review in MIX44 1998.
"Un paysage musical que l'on peut ecouter avant de se pencher sur la cartographie environnemental de Justin Bennett: "Cityscape". Un travail d'ethnologue. Il a du arpenter la jungle des metropoles europeennes arme d'un magneto... A ecouter tel quel ou a incorporer dans un mix."
And Clive Bell in The Wire Magazine, July 1998:
"....This CD (plus CD ROM track) draws on Bennett's various live radio broadcasts and installations - 25 urban soundscapes from Europe and North Africa are painstakingly stitched together into a continuous 60 minute piece. Bennett is a good example of Brian Eno's dictum that the artist is now a curator - he presents found sound with a minimum of intervention, apparently. But of course, the concealed art is in the selection, the recording itself and the compilation. Anyone who's ever enjoyed the wind fluting the holes on a metal five bar gate, or how a creaky jetty imitates an electric guitar, will find plenty to occupy them here. Rhythm comes form slapping water, heavy machinery supplies the bass drone and that eerie, low, harmonic flute effect, could that be the wind in a duct? Suddenly we're in the same position as the blind, analysing tiny sounds for what they can tell us. Without a sure touch, this kind of recording can be as exciting as listening to paint dry, But Bennett's composing skills are superb. He leans to the poetic rather than the spectacular, and there are few shocks here. However, the album has it's moments of great vividness, like the investigation of different types of rain midway through. A sudden thunderous downpour in Paris is contrasted with softer, sensuous rain in The Hague, the drops tapping metal pots like a practising percussionist. Bennett's trademark is the distant sound: the Munster church bells blurring to a coloured wash, the chanting in Tangiers. It certainly cleans out your ears - after this album, my neighbourhood sounded quite different."