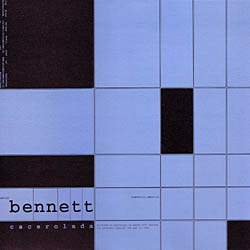 Cacerolada/Cleavage of Acoustics
A Split LP with Toshiya Tsunoda on the Mixer Label.
"Justin Bennett's "Cacerolada" is a superbly recorded document of a "pots and pans" anti-war protest in Barcelona, putting the listener right inside both the sound itself and the emotional ramifications of the situation. The clash of metals is by turns celebratory and brimming over with righteous anger, finally resigned to its own impotence.... Conversely, Tsunodas "Cleavage Of Acoustics" is all about processing despite its obvious origin in natural sound (rainfall, crickets, birds, etc). Its episodic superimposition and juxtaposition of electronic and 'real' elements recalls early Hafler Trio, and it shares the same sly humour." from review in The Wire, Feb 05 by Keith Moline.
12" vinyl, 33rpm.
Packaged in a 2 colour sleeve
Price = 15 EUROS incl. postage and packing.