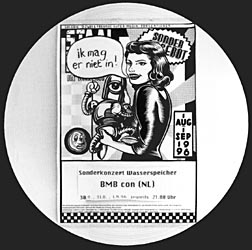 B M B con. Sonambiente (ik mag er niet in)
Sonambiente, otherwise know as "ik mag er niet in" is a 12" LP picture disc documenting a 3-day project in Berlin in the underground watertank on Prenzlauerberg.
The waterreservoir is built in the form of a labyrinth, and on each of the three days, the audience were led deeper into the maze. The soundsources were footballs, glass, stones, feedback, water and gabbers on scooters.
The disc is packaged in a clear bag.
Collectors Item - Only VERY few left!
Price = 15 EUROS incl. postage and packing.