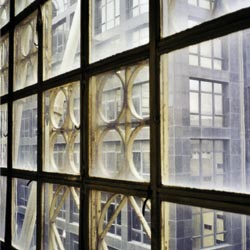 Beirut Story
Beirut Story was made in an empty apartment while recording the soundtrack for Renate Zentschnig's film "Een woning in Beirut". It captures the ambient soundscape of this chaotic middle-eastern city by filtering traffic sounds and building works through dusty windows and empty rooms or resonating radio broadcasts and mosque loudspeakers in glass bowls and musty cupboards.

10" vinyl, 33rpm.
side A: hiding places 1.37, dreamhome 5.40, Beirut Story 5.52.
side B: crystal radio 12.34.
Packaged in a full-colour sleeve, released in a numbered and signed edition of 250.
Price = 12.50 EUROS incl. postage and packing.
Digital Download and audio previews available on Bandcamp
Frans de Waard wrote in VITAL, October 2004: "Imagine The Hafler Trio meeting Francisco Lopez in a tropical city and working together on the result. Justin Bennett does it all by himself."